Smartwatch technology has come a long way in the past years. No longer are they just a special accessory for tech enthusiasts or for the sporty people to track their workouts. Today's smartwatches and activity trackers are stylish and functional, offering users a convenient way to stay connected with others via a call or text, but also to keep us updated with the health stats.
But how to decide which one is the best for your needs?
Nowadays, there are a lot of wearables on the market, so no wonder we get confused sometimes by the number of options available. Some of the wearables can help you improve your health, while others are more focused on fashion and style. Despite the large variety of watch models and their functions, we at Capi-Lux think that the wearables can easily become part of your daily lifestyle and even improve it.
Do you want to keep track of the steps you take on your city trip? Or make sure you stay up to date easily about your calendar on a business trip abroad?
In this blog post, we will discover some of the smartwatches and activity trackers which are available in the Capi-Lux stores at different airports internationally. We will also look at the different features each of them has to offer, so that you can decide which one is best for your needs.
Fitbit
If you have looked up smartwatches and activity trackers in the market, you have for sure already ran into one of the Fitbit smartwatch items. There are different watches such as inspire 2, luxe, charge 5, and versa 3, each fitting your needs and preferred design. All of the products track steps and distance but are also water-resistant up to 50m. Ideal for any kind of holiday destination, right?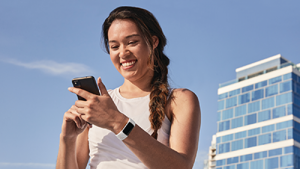 With the Fitbit watches, you can easily track your sleep and monitor your heart rate to stay up to date about your health status and progress. The trackers like Fitbit Charge 5, luxe, or inspire 2 were made to help you live a healthier life and fuel your fitness journey.
The fancier Fitbit smartwatches like Fitbit or Fitbit Sense have more functionalities such as built-in GPS, a connection to Spotify for a better music experience, and Voice Assistant to quickly check the weather or even set bedtime reminders.
Samsung
Samsung has two watches on the market which have very similar names, Galaxy Watch4, and Galaxy Watch4 Classic. Both watches have the same user interface, hardware, and sensors. Therefore the differences come down to the design, so you can decide what fits the best to your preference and wishes.
Both of the watches have two case sizes and multiple colors. The Galaxy Watch 4 is available in 40mm and 44mm in black and silver colors, whereas the green exclusive is 44mm and pink gold is 40mm in size. There are indeed more color options for you to choose and the design is sportier than the classic model. Galaxy Watch4 Classic is slightly bigger, either 42mm or 46mm, which are available in black and silver colors for both models.
As earlier mentioned, the software and features of both watches are the same. You can monitor your health easily with both of the watches and enjoy multiple third-party apps like Spotify when going off for your workout. If you want to wear either of the watches on your holiday and doubt whether you have to be careful around the water, no worries! Both of these models are waterproof and can even track your sleep for that complete holiday rest.
Price-wise, the Samsung Galaxy Watch4 is slightly cheaper than the Classic so your decision between the two watches is up to your budget and preferred design.
Garmin
The watches by Garmin are well known as they go far more in depth than other smartwatch brands as they are aligned with more advanced sport metrics. If you are an athlete traveling to a training bootcamp abroad, Garmin watches can be your best way to go. Depending on your preferred style and functionalities, Garmin has a large variety of assortment where to choose from.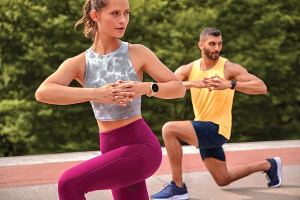 Venu – Want to keep up with your health and wellness, but also wear a watch that is beautifully designed? Venu is your way to go.
Forerunner – Perfect for runners who want to have detailed statistics of the training. You can track your training effect and check the recovery time in order to get ready for your next workout. The Forerunner 745 also gives daily workout suggestions based on the training load and status.
Fenix 7 – Going on a skiing trip or planning to do climbing on your holiday? The Fenix 7S watch has built-in sports apps for multiple sports you might be doing. Besides this, it has a responsive touchscreen for quick access to functions and a solar-charged battery to expand the usage time even more.
Apple
For the fans of Apple, many people often prefer the whole set from the brand due to the seamless integration between the different Apple devices. This also counts for the Apple watches. Even though the Apple products usually have a higher price tag, the Apple watch can offer a lot of useful functions on top of a nice design.
Have a stressful travel ahead? To keep up healthy and fit, Apple Watch Series 7 can even measure the oxygen level in your blood and help you with a breathing exercise to reduce your stress levels. It is possible to set your personal screen preference, which helps you to have a quick glance at the watch screen easily in a rush. Want to know the weather forecast or the position of the sun in your destination? Or quickly remind yourself of the agenda of the upcoming business trip? No worries, the Apple Watch Series 7 is equipped with a bigger and more clear OELD display which is always on.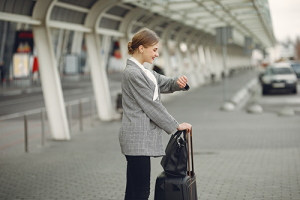 Let's not forget the little ones – smartwatch for kids
Xplora is a smartwatch for kids and onboards the future generation to the digital world by motivating the children to be more active when discovering the world. The mission is to give children a  safe onboarding to the digital world, meanwhile balancing the screentime and physical activity. This is an ideal device for daily life but comes in handy also when you are heading for a family holiday, no matter the destination.
The story of Xplora started when the founder and CEP, Sten Kirkbak, lost his son for 30 minutes in a Norwegian shopping mall. Because of this incident, Sten got an idea for a product that would help parents to stay connected to their children and help to increase the physical activity of the kids. This led to exploring the possibility to have a smartwatch for kids.
All the Xplora smartwatches for kids are set up and administrated via the Xplora family app. This means that the parents always have full control over functions such as:
-List of contacts (only ones visible on the Xplora watch)
-Safety zone
-Setting an alarm clock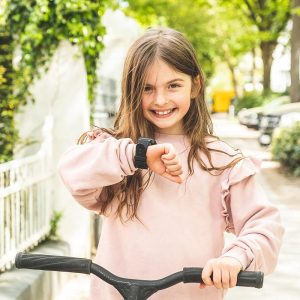 Conclusion
Whether you are looking for a watch to motivate yourself for daily activities, track your fitness progress or even stay connected with your children, there is definitely a smartwatch out there to meet your criteria. Our Capi-Lux stores across different European airports have variety of assortment of smartwatches. Got a question? Reach out to us via the contact form and we will get back to you as soon as possible.
Follow us on social media for the latest updates and product launches! (Instagram, Facebook & LinkedIn)